Filinvest City - Best Mixed-use Development
Filinvest City - Best Mixed-use Development
Filinvest City bagged the Best Mixed-use Development Philippines award in the Asia Pacific Property Awards 2016 last Friday, April 8 at The Shangri La Hotel Kuala Lumpur in Malaysia.
The Asia Pacific Property Awards is under the International Property Awards, a premier program recognizing and rewarding excellence in the field of real estate around the globe. Aside from Asia Pacific, other regions of the International Property Awards include Europe, United Kingdom, Africa & Arabia and Americas.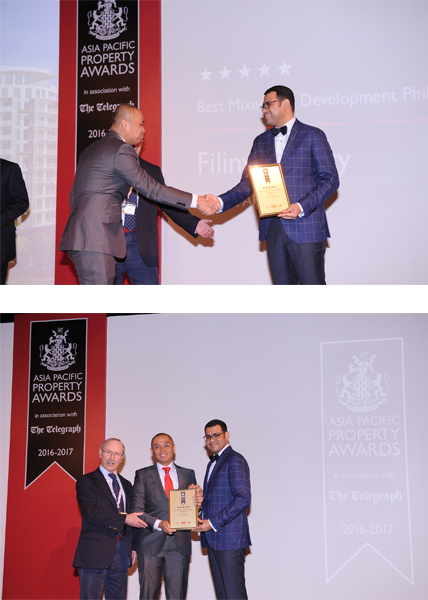 The award was received by Don Ubaldo, Project Head and Sr. Assistant Vice President for Filinvest City Commercials Lots Group, Filinvest Alabang, Inc.
Filinvest City sprawls over an expansive 244 hectares of prime property in Alabang, Muntinlupa. Envisioned to be competitive with the world's most modern cities, it is a fully integrated and self-contained community, divided into districts to provide a balanced mix of developments.