Filinvest City masterplan gets 'future-ready' revision
Filinvest City masterplan gets 'future-ready' revision
Major developer Filinvest is in the process of implementing an "enhanced future-ready masterplan" for its flagship Filinvest City in Alabang, expanding functional green spaces and IT connectivity throughout the district, a company official said.
"Seeing how times have changed, and along with it the way people live, work, and play, Filinvest saw the need to carefully review and reassess the already impressive masterplan of Filinvest City, utilizing best practices in urban planning," Filinvest said in a statement.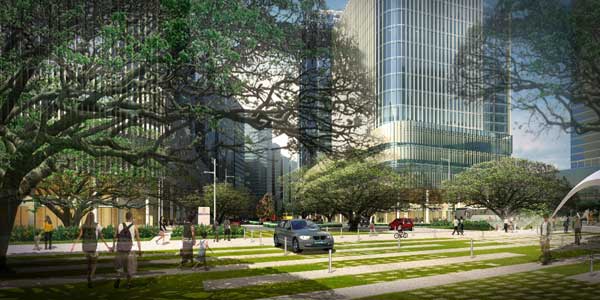 The updated masterplan for Filinvest City calls for expansion of "functional green spaces" as well as enhanced IT and utility connectivity throughout the sprawling, 244-hectare development. FILINVEST PHOTO
"A key element in our plan is the enhancement of existing open spaces into functional ones like parks," Filinvest Alabang Inc. Executive Vice President Catherine A. Ilagan said. "We have all the components of a thriving township which we are presently enhancing to make it an even more exciting 'green' community."
The main component of the enhanced, "eco-centric" design is a green belt feature called the Spectrum Midway Linear Park, a foliage-canopied walkway that spans across the north and south ends of the township.
Covering 244 hectares, Filinvest City is planned as a self-contained central business district, integrating a residential area, business district, a leisure destination centered on Festival Mall, education zones, and medical and wellness hub.
"Filinvest City is further reinforcing its stature as a garden city via the introduction of lush, landscaped parks, bike lanes, and other eco-centric enhancements. This is on top of a thriving bird habitat, a living creek, a bike trail, and tree-canopied road networks," the developer added.
Along with upgraded "green" developments, Filinvest is also investing in expanded utility and communications infrastructure, Ilagan explained.
"A lot is in the pipeline to transform Filinvest City into a smart city," she said. "World-class infrastructure is already present, especially for connectivity. That is why it is one of the cities with the highest concentration of BPOs (business process outsourcing firms) in the country. Filinvest City also has assured water and electricity supply, sanitation and solid waste management, efficient urban mobility and public transport, and safety and security of locators, tenants, and residents. We are currently in the process of finalizing plans to ensure a much wider access to IT connectivity within the whole city," she added.
Ilagan also said Filinvest is in the process of obtaining official certification of the entire district's sustainable design standards.
"We recognize that urban planning is about building a sustainable future. We are eyeing to register Filinvest City in the US Green Building Council's LEED Certification for Neighborhood Development. Having infrastructure that promote wellness will eventually bring a high quality of life for the community," she said.
"These refinements are part of a deliberate plan to ensure Filinvest City would be a model township; that businesses would grow alongside its progress; that every investor, every businessman, and every resident of the city enjoys increased value of their assets. Right now, the city still has a lot of growth potential, and these enhancements would definitely boost it further," Ilagan concluded.
Source: http://www.manilatimes.net/filinvest-city-masterplan-gets-future-ready-revision/321891/