Filinvest City commands fast-appreciating property values
Filinvest City commands fast-appreciating property values
Among the decisions taken in 2012, when the masterplan for the Filinvest Corporate City was reassessed, was the enlargement of the median strip on Spectrum Midway, the belt of green dividing the road into opposing lanes of traffic. This resulted in a wider area for trees and shrubs but less lanes on either side of the island.
It was a counterintuitive move. The future was expected to bring more vehicles to the mixed-use development in Alabang, Muntinlupa City, not less. Elsewhere in the metropolis, then as now, trees were giving way to infrastructure favoring vehicles.
As time would show, the decision to make Filinvest Corporate City greener by adding and enhancing open spaces has paid off greatly. Rebranded Filinvest City, the name change reflecting Filinvest's vision of space where people not only work but also truly live and play, the development has become an oasis amid the suffocating concrete jungle of Metro Manila. At the same time, state-of-the-art facilities allow businesses to meet the demands of 24-hour workdays and of customers in the Philippines and abroad. Working off the stress from work is encouraged by walkways, bike and jogging lanes, and organized activities such as Zumba, marathons, and music festivals. For those who adhere to 'retail therapy', there is Festival Alabang.
"We thought that if we develop this way, people will come," said Don Ubaldo, Filinvest Alabang, Inc. (FAI) vice president for project development-townships. "We thought the 'breathing room' provided by the green spaces will appeal to people even if this means reducing the land that can be sold."
One of the city's inspirations is Singapore, which has seamlessly integrated nature into its urban landscape, Mr. Ubaldo said. Orchard Road, for instance, is a walkable shopping strip due to the trees that line the sidewalks. Filinvest City, encompassing a total of 244 hectares and formerly a stock farm, could easily follow Singapore's lead, having all the fundamentals.
Any day will see some 40,000 persons populating Filinvest City. They are dispersed in a number of districts, each highlighting specific facilities but similarly designed to put what people need – food, for one – within easy reach. There is Spectrum, the economic core of the City that is home to prestigious businesses and upscale condominiums; Northgate, which hosts the IT and BPO companies; Civic Plaza, where hospitals, and the fire and police stations are located; Westgate, the high-end retail and lifestyle center; The Woods, which provides a more green, campus-like and relaxed setting with FEU as one of the key locators; The Palms, the highest point and site of exclusive developments like Botanika Nature Residences and The Palms Country Club; South Station, where the transport hub is located; and City Center, marked by Festival Alabang. These are connected through tree-lined walkways and bike lanes, while e-jeeps are available for those who wish to reach their destination faster.
As Filinvest City attracts more and more people, land and capital values and rental rates have risen, but are still lower compared to other mixed-use developments in Makati and Taguig cities. It thus presents lucrative opportunities to investors.
Land now sells for P300,000 per square meter, appreciating from P230,000 per square meter last year. Ultra high-end condominiums are going for P200,000 per square meter from P176,000 per square meter last year while those targeted at the upper class income market are available for P160,000 per square meter, up from P120,000 previously. Offices are sold at P220,000 per square meter, rising from P180,000 per square meter last year and leased at P780 per square meter from P700 per square meter last year.
Prices were just P50,000-P80,000 per square meter in 2012, when the masterplan was revisited, proving how the decision to go green "put in more value in per square meter terms," Mr. Ubaldo noted.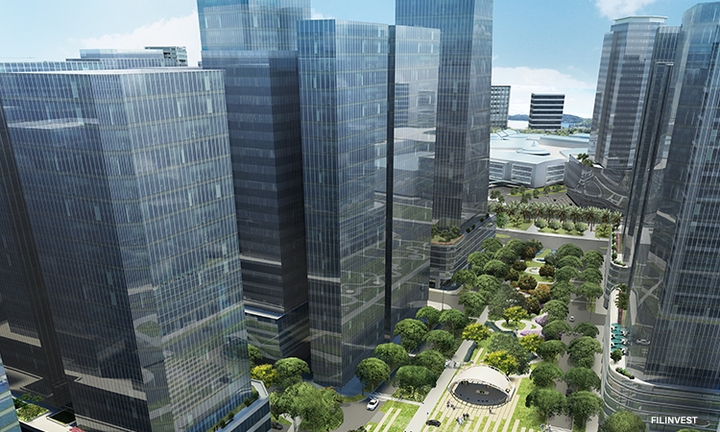 The supply of these assets is carefully calibrated, however, to phase in the construction of structures within the City. Office buildings are constructed only after careful study, despite demand being so high, particularly by business process outsourcing firms, there are already takers even before a building is finished.
FAI, subsidiary of listed Filinvest Development Corp. of the Gotianun family and manager of Filinvest City, wishes to avoid the fast-paced development of other mixed-used developments in Metro Manila, which has resulted in quick saturation and congestion. "We're pursuing bite-sized development," Mr. Ubaldo said. "We are envisioning the ultimate city, so we strategize Filinvest City's development."
Construction work proceeds at a measured pace in Filinvest City's districts. Meanwhile, open spaces continue to be enlarged, with the addition of 'Spectrum Linear Park', which spans across the north and south ends of the City and features tree-lined paths and outdoor installations. Next to be added are 'Central Park', a one-hectare park with a botanical garden and a dome for outdoor events, and 'Creekside Park' along the creek that runs through the City that will be connected to Festival Alabang's al fresco strip, River Park.
Sustainability is a long-term strategy for Filinvest City amid increasing urbanization in Southern Metro Manila and the Calabarzon and rising demand for housing and work spaces. It wants to stay green yet be equipped with the latest technology to attract residents, workers, investors, and visitors. Its registration in the Leadership in Energy and Environmental Design (LEED) v4 for Neighborhood Development Plan demonstrates its commitment to adhere to measures to create a healthy and productive space at minimal stress to the environment.
Awarded by the US Green Building Council, the LEED v4 certification will entail analysis of the City's location and linkages, neighborhood pattern and design, presence of green infrastructure and buildings, and innovation and design process, among others.
A certification is almost guaranteed, based on LEED v4 prerequisites. "We have met the minimum requirements," Mr. Ubaldo said. A platinum certification, the highest possible, is the ultimate target. Results will be known in one to two years.