Christmas comes to life at Filinvest City
Christmas comes to life at Filinvest City
The holiday season is fast approaching and we now find ourselves counting down the weeks until Christmas. The most wonderful time of the year is about to get more special as Filinvest City opens its doors to holiday crowds reveling in the Yuletide cheer.
Now on its sixth year, the annual Christmas traditions at the green gardenscapes of Filinvest City are made bigger than ever, transforming into an ideal live-work-play environment with an amazing array of food, retail, entertainment and lifestyle choices. Break free from hustle and bustle of daily life. Enjoy the fun, style and convenience when you take the whole family to Metro South's most exciting holiday destination — the Christmas wonderland at Filinvest City.
Holiday sights at Christmas wonderland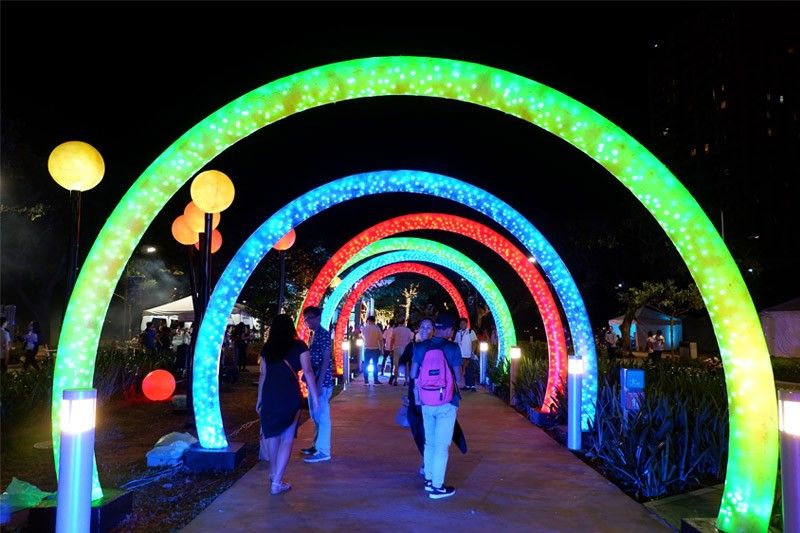 Kicking off the feast of the five senses are the larger-than-life and fully immersive displays at the Spectrum Linear Park, the green garden that now serves as the pulsating heart of festivities of the Filinvest City community. Opening its doors in the season to be jolly, "Christmas Comes Alive" features four magnificent Yuletide-themed sections that are bound to capture the wonder and awe of young and old alikefrom November 16 until December 31, 6 p.m. to 12 a.m.
Step into a spectrum of vivid colors in a walkway flanked by lampposts that lead toward a 40-foot majestic Christmas tree towering high above the entire enclave. Whether you have been naughty or nice, everybody is welcome at the Once Upon a Christmas Dream corner where a massive snow globe is stationed with a Christmas village, perfect for those dreaming of a White Christmas.
To complement the giant Christmas tree, there is also a life-sized model train much like the famed "Polar Express." Hop on to the beat of Christmas music and dazzling, sparkling lights. Marvel at the hot air balloon centerpiece that makes you want to climb aboard and fly up, up and away. There's also a Building Décor Contest where the entire Filinvest City community — locators, employees and residents — extend best effort to make this year's Christmas celebrations bursting with life.
Yuletide flavors at Banchetto Filinvest City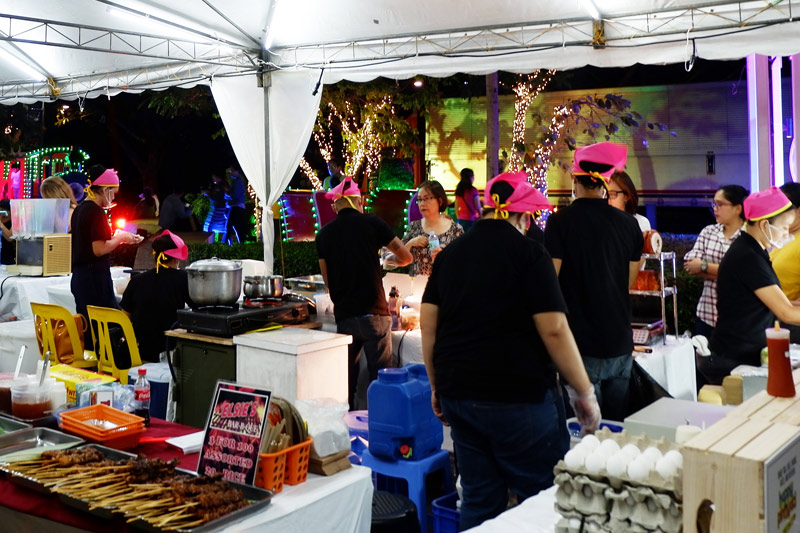 For those looking for more than the usual weekend  market, Banchetto Filinvest City is open every Friday and Saturday starting November 16 until December 31 from 5 p.m. to 2 a.m. It is a lively food bazaar that gathers curated merchants, talented bakers and up-and-coming chefs who cook, bake or create the products and wares they sell. Full of unique delicacies and gastronomic offerings, the bazaar is the home of all things one-of-a-kind, delicious and original. With an exciting mix of aromas and flavors, everybody will have something to feast upon. Meanwhile, the pet-friendly and chic alfresco market setup ensures that you and your furry friend can come along to enjoy the stroll and have a good time.
 
Filinvest City lifestyle hubs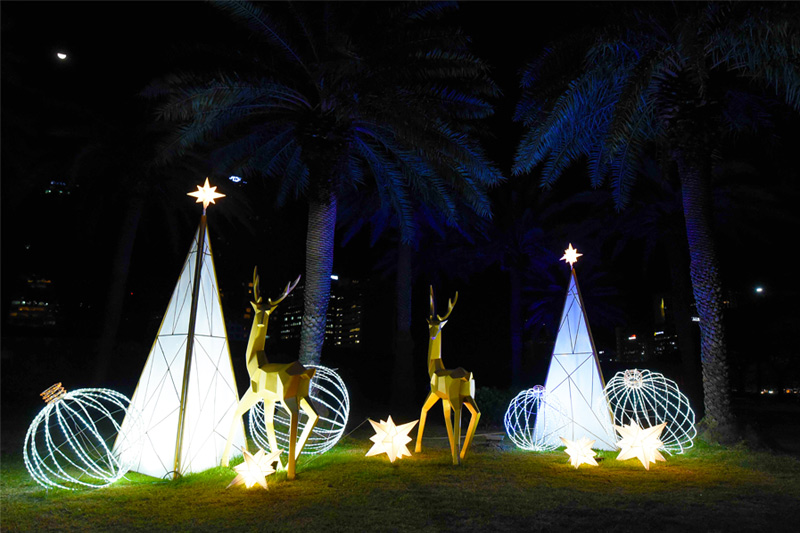 Breathing a refreshing Yuletide vibe into the Metro South, Filinvest City's lifestyle hubs — Festival Alabang and Westgate Center — opens its doors to families, friends and barkadas looking for the perfect go-to destination this holiday season. Aside from Christmas wonderland at Spectrum Linear Park, the food bazaar and weekend concerts, there is still much to enjoy at Filinvest City. The vibrant shopping mall of Festival Alabang is full of retail shops, specialty stores and a unique mix of retail options. Meanwhile, merrymakers are in for a treat when they discover the culinary treasures and and dining selections at Westgate Center.
 
Sounds of Christmas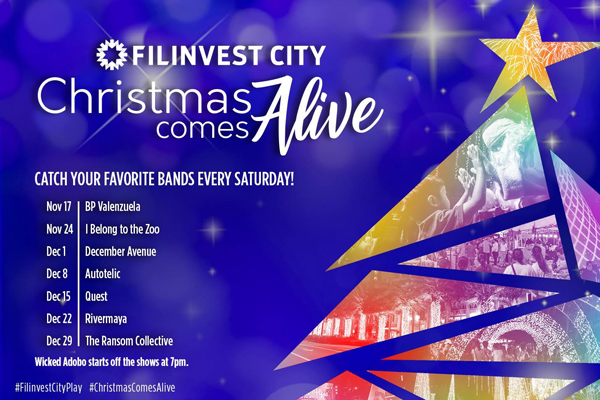 On Fridays, South-grown talents such as school chorale groups and community dance troupes will showcase Christmas tunes and grooves.
An impressive lineup of today's best and hottest Original Pinoy Music (OPM) acts is also set to grace the stage with live performances and concerts featuring greatest hits. Catch the country's hottest hitmakers every Saturday at the following weekends: BP Valenzuela (November 17), I Belong to the Zoo (November 24), December Avenue (December 1), Autotelic (December 8), Quest (December 15), Rivermaya (December 22) and The Ransom Collective (December 29). Electronic producer Wicked Adobo starts each show at 7 p.m. The audio treat is made even more unforgettable with a fireworks display that cap off every weekend concert. Truly, this exciting event lineup set at the Spectrum Linear Park will make this holiday season more fun and memorable. 
Take the whole family for an entire day of delightful experiences. Make memories with people that matter at one of the most vibrant Christmas destinations down south — "Christmas Comes Alive!" at Filinvest City.
 
SOURCE: https://www.philstar.com/lifestyle/business-life/2018/11/20/1868863/chri...
Written by: Argie C. Aguja