Music and play at Festival of Possibilities 2019
Music and play at Festival of Possibilities 2019
The metro south appears to be the destination where fun happens. Case in point: The town-wide fair of Filinvest City will return for its second year at the sprawling Filinvest City Events Grounds on April 26.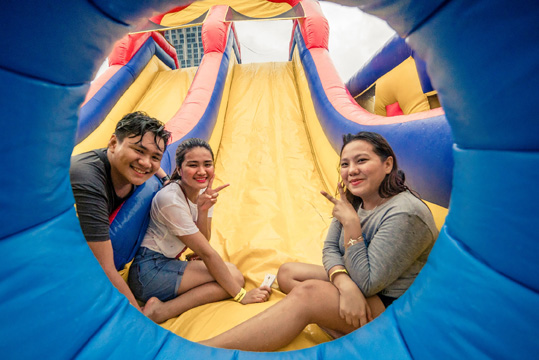 Guests can interact with one another and take photos at inflatable slides and other fun attractions 
Aimed at bringing residents, workers, and guests closer together, the second edition of the fair, which is open for public, promises to be more than just a music festival with more exciting and fun interactive outdoor activities and attractions in store for its guests. 
"Our main goal here at Filinvest City is to give back to the community and provide our 'Cityzens' not only a progressive, self-contained central business district, but one that enriches their lives as well," says Filinvest vice president for townships Don Ubaldo. 
Festival goers can interact with one another, take lots of photos, and enjoy the arcade booths, board games, and other attractions amid the city's signature fresh air and lush landscape. 
A picnic area will also be provided so guests can bond over mouthwatering eats and treats offered at the food bazaar.
Set to perform on stage are Itchyworms, Rivermaya, Spongecola, and rising artists such as I Belong To The Zoo, Written by the Stars, and This Band.
To enter the venue, festival-goers must only present proof of residence or employment in Filinvest City at the venue gates to get in. Meanwhile, non-Filinvest Cityzens can join the event by presenting a single receipt with at least P1,000 worth of purchases from any merchant in Festival Alabang. This will be equivalent to two tickets.
"With Festival of Possibilities, we aim to further foster a growing community through exhilarating events that encourage participation among Filinvest Cityzens," enthuses Ubaldo.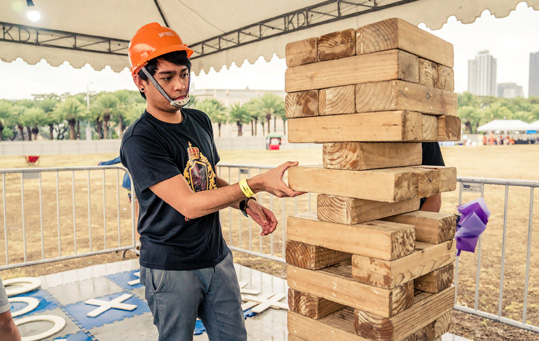 Huge jenga and other board games are set up amid Filinvest City's lush landscape. 
Originally Published at: http://www.manilastandard.net/lifestyle/young-life/291262/music-and-play...