FILINVEST ALABANG INC. ENTERS JOINT VENTURE WITH MITSUBISHI CORPORATION
FILINVEST ALABANG INC. ENTERS JOINT VENTURE WITH MITSUBISHI CORPORATION
Filinvest Alabang, Inc. (FAI), a subsidiary of Filinvest Development Corporation, one of the leading, stable and diversified conglomerates in the Philippines, has signed a joint-venture agreement with Mitsubishi Corporation (MC), a global integrated business enterprise that develops and operates business in various industries. The agreement paves the way for the acquisition by MC of 40% interest in FAI's almost 17,000 square meters of land at the heart of Filinvest City in Alabang, which the parties will then jointly develop as a multi-tower, mixeduse complex, through a joint venture company. This new project is envisioned to be another prestigious development that will feature grade A office spaces complemented with impressive retail concepts in the area. Closing of the transaction is subject to the satisfaction of certain conditions precedent, including obtaining approval from the Philippine Competition Commission.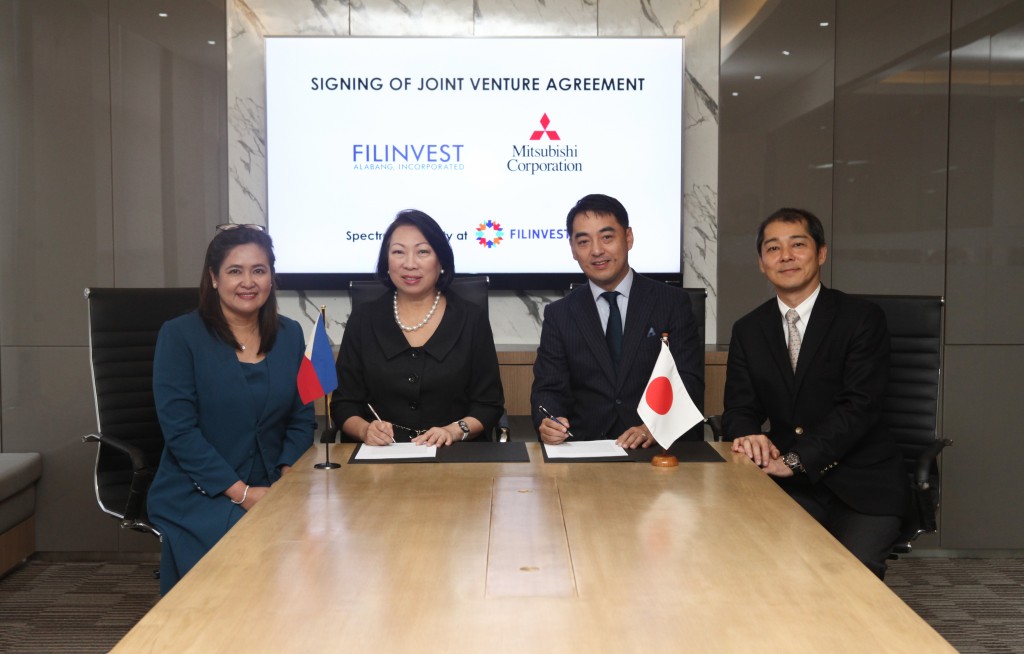 From left to right: Catherine Ilagan, President and Chief Operating Officer of Filinvest Alabang Inc; Josephine Gotianun-Yap, Chief Executive Officer and Chairman of the Board of Filinvest Alabang Inc; Kenichi Kumemoto, Head of Urban Development Division, Mitsubishi Corporation Manila Branch; Masahiro Nagaoka, General Manager for Asia Real Estate Development of Mitsubishi Corporation 
Strategically located at one of the finest blocks in Filinvest City, Alabang, this new mixed-use development will be situated across the newly expanded Festival Mall and adjacent to the premier residential strip Parkway Avenue. With the ongoing enhancement of Filinvest City, the project will also have direct access to the much-anticipated Central Park, which is another crown jewel development. 
 
An estimated Php 15 Billion has been earmarked for the project development cost, and it is anticipated to add approximately 183,000 sq.m. of mixed-use GLA to the booming central business district in Alabang. FAI and MC are set to bring in their expertise and experience in the fields of construction, operations and management, and urban development, to create their first shared innovative landmark.  
 
"We are very pleased to enter into an agreement with Mitsubishi Corporation and we are looking forward to this partnership. We are optimistic that our synergy will bring forth another first-of-its-kind development that will complement the growth and vision of Filinvest City." says Catherine Ilagan, FAI President. 
About Filinvest Alabang, Inc. 
 
Filinvest Alabang, Inc. (FAI), is a subsidiary of Filinvest Development Corporation, focusing on mixed-use urban developments in Metro Manila using modern and ecological urban planning and design. FAI was incorporated on August 25, 1993 for the development of the massive 244-hectare Filinvest City, a joint venture project with the Philippine government. FAI is 80% owned by FDC and 20% owned by Filinvest Land Inc. (FLI).  
 
FAI has also received a number of accolades such as the prestigious Best Mixed-use Development Philippines award from the Asia Pacific Property Awards in 2016. This year, the company was once again hailed as one of the top 10 developers in the Philippines, for the third time in the last five years, by the prestigious BCI Asia Awards, with Filinvest City and its Spectrum Linear Park cited as some of its most recent notable developments. A coveted award in the construction industry, BCI Awards is the pioneer and most reputable award-giving body in Southeast Asia, giving out awards annually to remarkable companies in construction and 
property development in Hong Kong SAR, Indonesia, Malaysia, the Philippines, Singapore, Thailand and Vietnam. This is FAI's third win following a similar recognition in 2016 and 2017. The awards will continue to inspire FAI to raise the bar in the property development industry by Integrating the highest global standards in modern, ecological urban masterplanning and design.  
 
About Mitsubishi Corporation 
 
Mitsubishi Corporation (MC) is a global integrated business enterprise that develops and operates businesses together with its offices and subsidiaries in approximately 90 countries and regions worldwide, as well as a global network of around 1,400 group companies. 
 
MC has 10 Business Groups that operate across virtually every industry: Natural Gas, Industrial Materials, Petroleum & Chemicals, Mineral Resources, Industrial Infrastructure, Automotive & Mobility, Food Industry, Consumer Industry, Power Solution and Urban Development. Through these 10 Business Groups, MC's current activities have expanded far beyond its traditional trading operations to include project development, production and manufacturing operations, working in collaboration with our trusted partners around the globe. 
 
With an unwavering commitment to conducting business with integrity and fairness, MC remains fully dedicated to growing its businesses while contributing to a prosperous society.