Fostering a live-work-play community through art
Fostering a live-work-play community through art
A city owes its uniqueness to the collective consciousness of its people, brought about by their shared experiences shaped by its planning and design. For vibrant modern metropolis like Filinvest City in Alabang, Muntinlupa City, the existence of public art does not only define its character as a community, but also provides platforms for conversation—connecting and engaging its citizens, and forging civic pride among its stakeholders.
Backed by its live-work-play mantra, Filinvest City has recognized the unique opportunity to inspire Cityzens to come together and has made art a part and parcel of its growth and development as a community. More than creating aesthetic places and on top of the surrounding lush landscape, the Garden City of the South commissioned artists to create something that will soften the built environment and invigorate the public spaces.
Among the featured works is by visual artist and sculptor Jinggoy Buensuceso whose commissioned work for Filinvest City, "Ikigai", stands proudly at the prestigious corner of Corporate and Parkway Avenues. Buensuceso honed his craft through international exposure in Singapore and New York where he was based during the early days of his career. He has collaborated with top retail companies, developers, and hotels in and out of the Philippines. The acclaimed artist, a material expert, works primarily with wood, cement, and metal.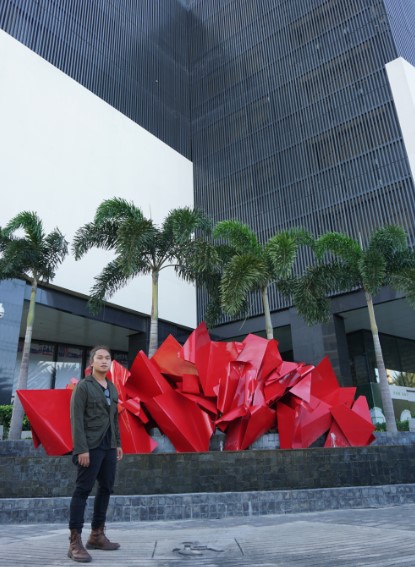 "Metal is my favorite (material). Not many artists use metal because it's hard to manipulate but I love manipulating materials. I treat my materials like I have a relationship with them, parang may conversation," he says.
The Ikigai, made of powder-coated aluminum to withstand the elements outdoors, is inspired by crumpled paper. Buensuceso explains, "Artists, architects, engineers, songwriters, poets, even lovers, use paper for writing plans or ideas. If they're not happy with their idea, they crumple the paper and throw it away. That meaningful moment was what I wanted to capture because I consider that a journey to perfection." The art piece is painted in Buensuceso's signature shade of red to depict life and emotion.
A project that Buensuceso worked on for more than five months, the Ikigai is meant to serve as "food for the soul" for the people of Filinvest City. "Art is important. If you see an art piece, it evokes different emotions, it helps you learn, and sometimes it even answers your questions. I'm happy that many companies are now investing in public art because it gives people easy access to works of art," he says.
Private developments and the local government's decision to invest in public art have helped boost the art scene in the country. Buensuceso says, "The art scene in the Philippines is gaining more following, thanks to developments like Filinvest City. Companies are now allotting budget purely for art."
To be part of that movement is in itself a feat for Buensuceso."What I love about working with Filinvest is that they give me full creative freedom. For artists, that is important so they can give their heart to the pieces they are creating."
Filinvest City shares Buensuceso's vision in using art as a gateway for community building. Don Ubaldo, vice president for townships, says, "Filinvest City's masterplan is to be a central business district, but we also want to provide more than the essentials for conducting business. One of our first efforts in making Filinvest City a vibrant live-work-play community is the presence of public art." He adds, "Having art that is freely accessible within the community not only triggers cultural consciousness but also promotes the community's collective identity—one that instills a sense of pride, belonging and human connection. Filinvest City is that place where people want to work, live and visit."
Filinvest City acknowledges the value of public art in invigorating public space. Artists like Buensuceso are transforming the city into more than just a central business district, but also a vibrant and meaningful community through public art.
Visit Buensuceso's Ikigai installation fronting Parkway Corporate Center Building at Corporate corner Parkway Avenues, Filinvest City, Alabang. To know more about Filinvest City visit www.facebook.com/FilinvestCityOFFICIAL