Fostering art in a live-work-play community
Fostering art in a live-work-play community
Filinvest City has commissioned artists to create public art as another way to soften the built environment and invigorate spaces in this garden-inspired community.
Among the featured works is by visual artist and sculptor Jinggoy Buensuceso, whose commissioned work for Filinvest City, "Ikigai", stands at the corner of Corporate and Parkway avenues.
Buensuceso honed his craft through international exposure in Singapore and New York where he was based during the early days of his career. He has collaborated with top retail companies, developers, and hotels in and out of the Philippines. The acclaimed artist, a material expert, works primarily with wood, cement, and metal.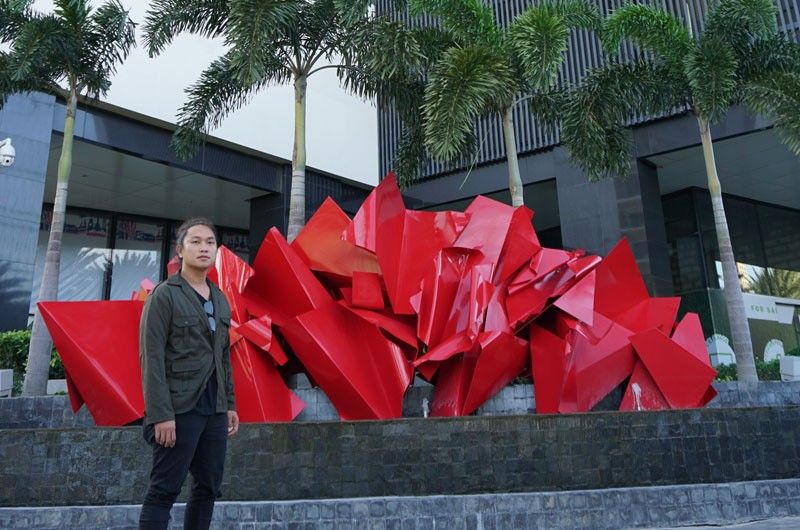 The Ikigai, which means "a reason for being" in a Japanese concept, is mainly inspired by a crumpled paper.
"Artists, architects, engineers, songwriters, poets, even lovers, use paper for writing plans or ideas. If they're not happy with their idea, they crumple the paper and throw it away.
That meaningful moment was what I wanted to capture because I consider that a journey to perfection," Buensuceso said.
The art piece is made of powder-coated aluminum to withstand outdoor elements and is painted in Buensuceso's signature shade of red to depict a strong passion for life and emotion.
A project that Buensuceso worked on for more than five months, the Ikigai is meant to serve as "food for the soul" for the people of Filinvest City. "Art is important. If you see an art piece, it evokes different emotions, it helps you learn, and sometimes it even answers your questions. I'm happy that many companies are now investing in public art because it gives people easy access to works of art," he said.
Filinvest City shares Buensuceso's vision in using art as a form of expression and even entertainment.
Don Ubaldo, vice president for townships, said "Filinvest City's masterplan is to be a central business district, but we also want to provide more than the essentials for conducting business. One of our first efforts in making Filinvest City a vibrant live-work-play community is the presence of public art."
He added: "Having art that is freely accessible within the community not only triggers cultural consciousness but also promotes the community's collective identity—one that instills a sense of pride, belonging and human connection even amidst a pandemic. Filinvest City is that place where people want to work, live and visit."
Source: https://malaya.com.ph/index.php/news_special_feature/fostering-art-in-a-...