Filinvest City earns LEED-Gold in sustainable neighborhood development certification, designing cities for 'better normal'
Filinvest City earns LEED-Gold in sustainable neighborhood development certification, designing cities for 'better normal'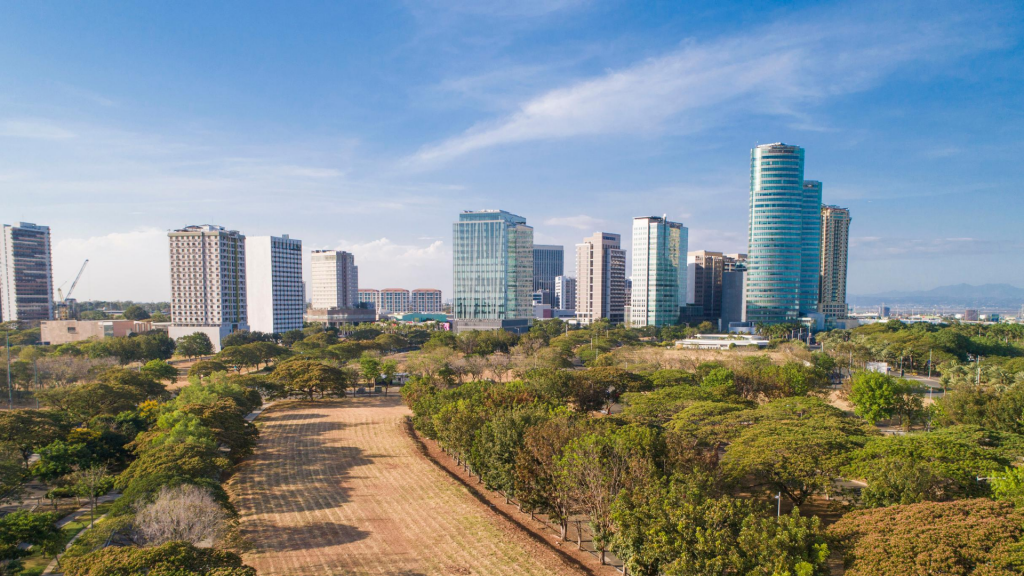 Home to a dynamic business center embraced in lush green landscapes, Filinvest City is redefining the business skyline of southern Metro Manila
Green buildings that claim to reduce adverse impacts on the environment are on the rise in many metropolitan areas in the world. But, how green really is green?
For Filinvest City (FC), green means gold after positioning itself as a global garden city and raising the bar for building sustainable cities that adapt to the future's needs and provide solutions to social, health, economic and pressing environmental concerns.
The 244-hectare premier central business district has been recently awarded Leadership in Energy and Environmental Design LEEDv4 Gold for Neighborhood Development (LEEDv4 ND) certification.  It is the first Central Business District (CBD) in the Philippines and one of the largest in Southeast Asia to surpass the world's most rigorous green building rating system and earn such recognition.
LEED is run by the prestigious non-profit U.S. Green Building Council, which recognizes designs that are environmentally responsible from construction to maintenance.
"LEEDv4 ND certification is the "Gold Standard" for green neighborhood design and is used to measure the sustainability of communities around the world," Dean Barone, Sustainability Consultant and Director of Manila-based Barone International, said.
"The USGBC recognized Filinvest City for its commitment and dedication into building ecologically responsible infrastructures, sustainable community, urban innovation, and its unwavering promise to giving back to the community," he said.
Foretaste of new normal
Josephine Gotianun-Yap, CEO of Filinvest Alabang Inc., said Filinvest City's vision has always been to create a future-ready CBD. Thus, when the future becomes a reality, that vision is as practicable and relevant today as ever.
Even before the global pandemic struck, Filinvest Cityzens or those who either work or live in Filinvest City already had a foretaste of the new normal.  Through the future-ready masterplan, which has been in place for years and the resilience of the business and residential communities, FC managed to minimize the pandemic's impacts.
Ease of movement and physical distancing are not a new requirement. Filinvest City's pedestrian-friendly neighborhood encourages walking, jogging, and cycling along its dedicated bike lanes in conjunction with wide, shaded sidewalks to promote health and wellbeing while maintaining physical distancing.
"Enabling people to experience the outdoors fosters stewardship of their cherished environment. This is how we work with nature. In cities where nature thrives, it is easier for the people who work and live here to practice a healthy lifestyle", Yap said.
FC also strives to cater to diverse needs of the Cityzens where a quality range of residential options, retail centers, and community hubs are available for every lifestyle, with public and private hospitals and government institutions nearby.
It has been a place with its own unique character and function, where people live, work, shop, and interact with their neighbors.
Just walking around the nine districts within the City, each of which is designed with complete live-work-play components, one will discover the type of community that is well-poised to thrive and remain resilient because the sustainable benefits are hidden in plain sight.
The City has its own Emergency Response Group and Crisis Management Team, together with its own Central Emergency Command Post, which are manned and operated by professional staff round the clock. The Emergency Response Group is equipped with state-of-the-art rescue tools, all ready to be deployed in the event of an emergency.
Residents, employees, and guests have easier access to health care with the hospitals and wellness centers, such as Ospital ng Muntinlupa, Asian Hospital and Medical Center, and Research Institute for Tropical Medicine located within Filinvest City.
Amid the pandemic, the township development maintains healthy and safe environments not just within its enclaves. Through Filinvest City Foundation, frontliners and vulnerable communities across the country have been supported, as well.
"We have taken the big leap years ago when Filinvest Development Corporation Founder Mr. Andrew L.  Gotianun, Sr. envisioned a sustainable and future-ready CBD. The LEED Gold certification is proof that we have been doing this right from the start, and that there are alternatives to the accustomed way of building cities in the metro. Looking at Filinvest City, they can be successful", Yap explained.
Filinvest City has designated more than 30% of its total land development for green open spaces, where people can experience and enjoy nature.  This, Yap said, sets the City apart from other CBDs in the country.
FC's urban planning and design likewise demonstrate smart growth with walkable streets and extensive public parks, which include the now completed Spectrum Linear Park and the soon to be completed Central and Creekside Parks.
Its lush natural landscapes support native vegetation, which is nourished by recycled water captured on the site to eliminate the use of potable water for irrigation.
 "We believe that if we built the City this way, with forethought and compassion, we can be more resilient to future challenges, such as this pandemic, and mitigate climate-related risks that are almost certain in the near future," Yap adds.
Business growth
The LEEDv4 Gold certification cemented Filinvest City's position as a frontier for economic growth against the backdrop of its green vision, earning it the title "the Garden City of the Metro South."
With the certification, FC proved that it embodies the sustainability principles, such as Smart Growth and New Urbanism by lowering its operating costs and raising its asset value, reducing waste sent to landfills, conserving the use of energy and water, reducing greenhouse gas emissions, among other nature-positive activities. Guided by these principles, companies and businesses who choose to put up buildings at Filinvest City will have a higher chance of getting LEED-certified because the neighborhood itself is a LEED Gold CBD.
Apart from enhancing livability in its properties, these measures have proven economic benefits that influence property values and attract investors. As the only true garden city in the Philippines, Filinvest City's compound annual growth rate has been more than 20% in the last 10 years.
Filinvest City continues its robust land value appreciation, making it an ideal location for companies and investors.
A relaxed environment with a competitive business atmosphere plays a role in drawing more people into the workforce and increasing productivity.  "We believe that healthy people in healthy places are efficient in recovering and sustaining a healthy economy," Yap shares.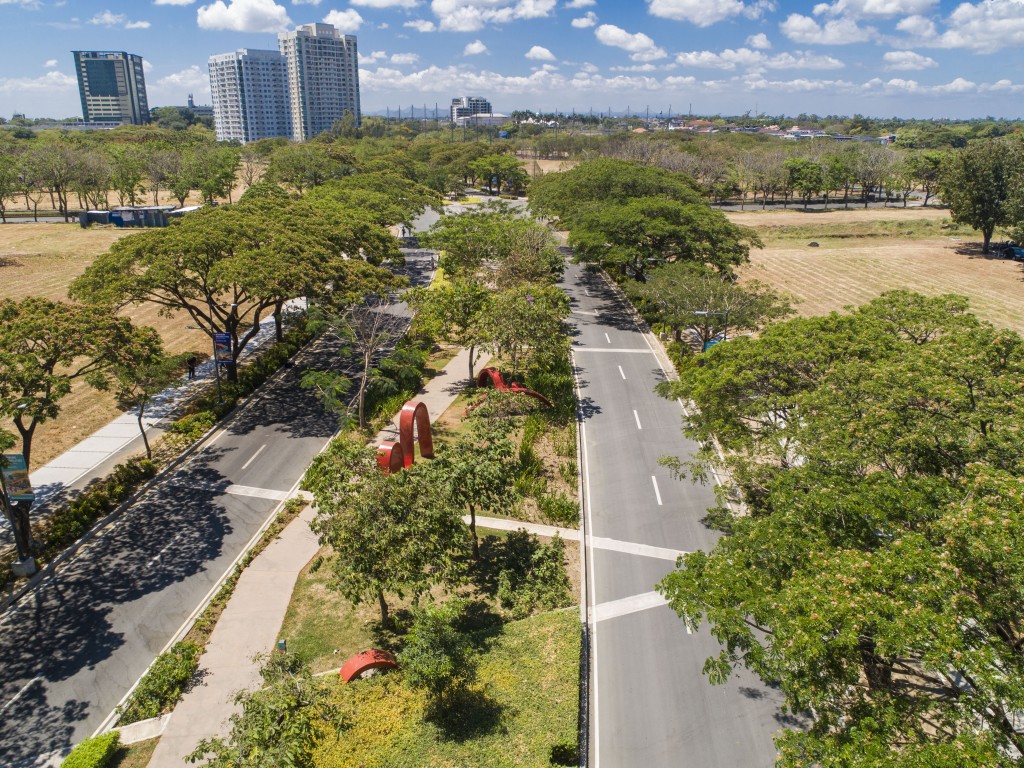 Spectrum Linear Park at Filinvest City: an innovative green-belt that is close to a kilometer of tree-canopied road and pedestrian connecting the Northern and Southern Districts of the City
Leading into a greener future
As sustainability greatly contributes to the longevity of CBDs, locators, residents, employees and transients are confident that the City will thrive for a long period.
Yap said beyond the values of investments, assets, and capital, FC puts a heavy premium on the emotional satisfaction of those who live, work, and play in the City.
"We believe this satisfaction comes from the sense of community that Filinvest City has created and the sustainable masterplan that uplifts the quality of life. This boost naturally translates to happy and healthy Filinvest Cityzens," Yap said.
FC was also recently cited Best Mixed-Use Development at the Asia Pacific Property Awards 2020-2021 for its newest best practices for urban planning, which is in line with its commitment to become a premier, sustainable, and human-centered business district.
Notwithstanding these feathers in its cap, Filinvest still continues to innovate and lead into a greener future.