Thriving beyond the new normal
Thriving beyond the new normal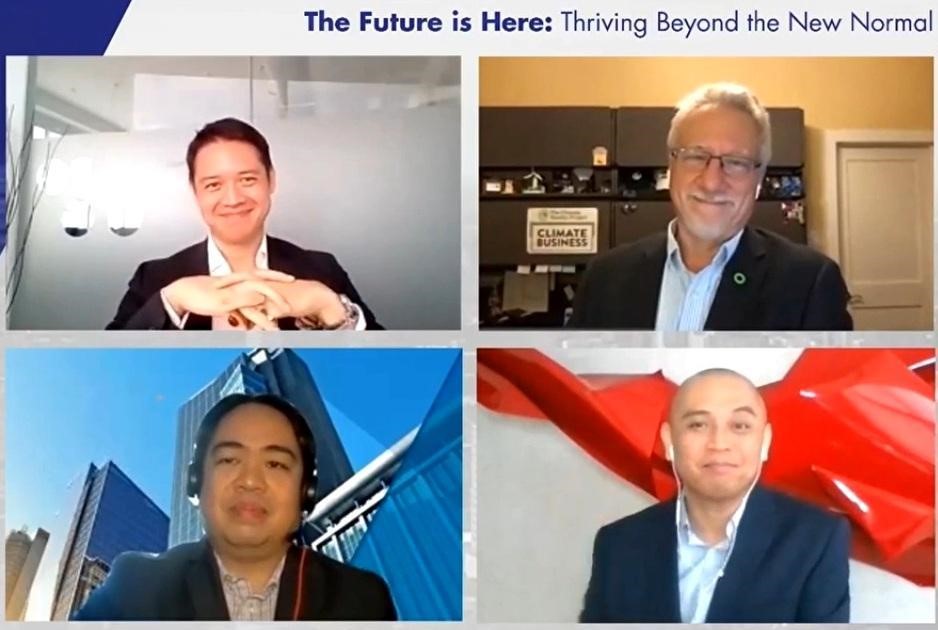 A dynamic discussion on building cities in the new normal and beyond with industry experts (top L-R) Jason Pomeroy, an award-winning architect, sustainability consultant, and climate leader Dean Barone, (bottom L-R) Cushman and Wakefield director and head of research Claro Cordero, and Filinvest City's vice president for townships Don Ubaldo.
The COVID-19 pandemic has drastically changed our way of life. As we adjust to the new normal, it has become even more imperative for designers and city planners to build spaces that are future-ready, safe, and sustainable for citizens. In Filinvest City, however, they have been living by this principle long before the pandemic, as highlighted in a recent webinar entitled "The Future is Here: Thriving Beyond the New Normal".
Streamed via Zoom and Filinvest City's Facebook page (https://www.facebook.com/FilinvestCityOFFICIAL), the webinar featured an esteemed panel of industry experts who discussed the importance of building cities in a better normal based on the three P's: People, Planet and Profit. Among them were Filinvest City's vice president for townships Don Ubaldo, award-winning architect Jason Pomeroy, Director of Barone International - Dean Barone, and Director and head of research of real estate services firm Cushman and Wakefield Claro Cordero.
According to Barone, some of the key elements to keep a city green and healthy that will benefit the environment, in the long run, is access to open areas that connect people to nature, access to sustainable public transportation, policies to reduce waste, as well as water and energy consumption and continuous efforts to implement the latest green initiatives. But, the most important factor is how people can work, live, and still thrive in the community during and beyond the pandemic. Pomeroy tackled the importance of spatial sustainability providing people the freedom to make the right choice as to where to go, to work, to rest, and recuperate with the presence of natural light and ventilation especially during the time of lockdowns where outside mobility is limited. He also pointed out the importance of technology and how it allows people to blend the virtual and physical world during COVID times. People have further embraced work from home and e-commerce, among others, aside from having your essentials within your locale. Cordero on the other hand, touched the property values of sustainable cities presenting real estate as the best place to bet on during this time as compared to the stock market and bonds which are very susceptible to the disruptions in the economy. He also shared that businessmen used to look at three keywords when investing: location, location, location. Now, they are looking at convenience, functionality, and well-being which you can only find in sustainable, master-planned urban developments.
Utilizing all these best practices is Filinvest City, which continues to be at the forefront of the movement to create more adaptable, sustainable, future-ready cities. A 244-hectare premier central business district, Filinvest City cultivates a vibrant atmosphere where people converge and enjoy the benefits of a true garden city. This is why it comes as no surprise that Filinvest City has earned the LEEDv4 (Leadership in Energy and Environmental Design) Gold in Neighborhood Development certification in the Philippines. It is the first-ever Central Business District in the country to receive such certification and the largest in Southeast Asia. In fact, if you're planning to make your property go for green and sustainability -- all new buildings and homes located in Filinvest City will automatically receive up to 16 points toward LEED-certification.
Throughout the years, Filinvest has grown to understand the importance of putting people first. Ubaldo said, "Filinvest's Chairman Emeritus Andrew Gotianun Sr. envisioned a complete master-planned environment that was more than a competitive business district. He wanted a place that would enrich lives. That is how Filinvest City became a complete live-work-play environment for our locators and residents."
As a way of taking care of the planet and its people, Filinvest City has developed a sustainable city with over 30% of its land area designated for green, open spaces. On ground, the community did not have a hard time transitioning to the new normal. Pedestrians and cyclists have been enjoying a pleasant walking and biking experience in the City even before the pandemic struck. Bike lanes are integrated into wide sidewalks lined with shaded tree canopies punctuated with occasional public art here and there. Its lush landscape also supports native vegetation that uses recycled water to eliminate the use of potable water for irrigation. Additionally, Filinvest City offers unique experiences to provide that much-needed "get away" while still staying within the vicinity during these difficult times. Inside Filinvest City are an adventure bike trail, a bird-watching venue with 25 documented species, and a living creek that flows through Laguna de Bay—natural habitat to freshwater creatures. 
The township is designed into districts that are hyperlocal, thus becoming self-sufficient as all essentials are within walking distance from each other. Found nearby are world-class hospitals like Asian Hospital, Research Institute for Tropical Medicine, and Ospital ng Muntinlupa; commercial hubs like Festival Mall and Westgate Alabang; as well as multinational companies and topnotch educational institutions. Filinvest City is easily accessible via major roads like South Luzon Express Way (SLEX), Alabang-Zapote Road, Daang Hari Road, Muntinlupa-Cavite Expressway, and the Old National Highway.
Ubaldo shared, "Even with limited mobility during community quarantine, Filinvest City's complete live-work-play offerings allowed minimal commute to reach work and other essentials." 
Filinvest City's high regard for its people and natural environment has led to increased resilience of businesses and communities, reduced operating costs, impressive land value growth of 300 percent over the last six years, and continued confidence among residents, investors, locators, and other end-users.
Even with its already future-proof masterplan, Filinvest City continues to find ways to thrive with or without the pandemic. That is why, in the coming years, investors, residents, and would-be end-users can look forward to more outdoor enhancements, new spaces for businesses and leisure, and many more smart city initiatives.
To know more about Filinvest City, visit its website at www.filinvestcity.com and Facebook account at https://www.facebook.com/FilinvestCityOFFICIAL/.