Filinvest City's The Search: Full Contest Mechanics
Filinvest City's The Search: Full Contest Mechanics
FILINVEST CITY CHRISTMAS CONTEST 2020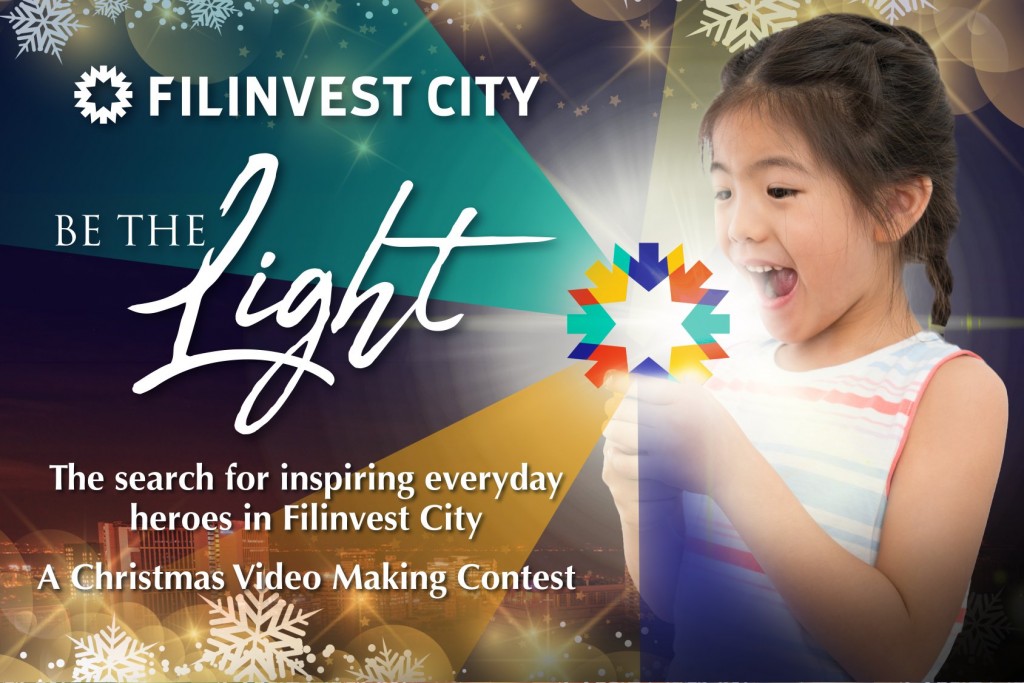 THE THEME
With glaring clarity, 2020 has stripped off all the "trimmings" and made us focus on what's important: the PEOPLE in our lives, the PEOPLE who make a difference in our community.
This Christmas, more than ever, we need to come together in a meaningful way. To honor these people who are worth celebrating. For when the night is dark, we look to the light to guide us.
INSPIRED by the everyday heroes all around us, may we realize that each one of us has it in him/her - to spark hope in those who think they have lost it. To ignite joy even in dark days. To be that light for others.
BE THE LIGHT: THE SEARCH
We are searching for the most inspiring stories of frontliners in Filinvest City – ordinary people who have gone above and beyond their duty to make a difference, even for just a moment in a person's life. Someone who makes us hope and believe that indeed, all of us can Be the Light this Christmas Season.
The online search calls for entries from November 19, 2020 to December 1, 2020.
WHO CAN JOIN THE CONTEST?
Contest is open to all Filipino citizens currently residing in the Philippines who have a story to tell about a frontliner (medical or essential worker) in Filinvest City.  Participants who are below 18 years old must send a scanned signed letter of consent from their parents or legal guardian to events@filinvestcity.com.
Participants must be a Facebook Fan of Filinvest City Facebook page: www.facebook.com/FilinvestCityOFFICIAL
Employees of Filinvest Alabang, Inc. including their relatives up to 2nd degree of consanguinity or affinity are disqualified to join.
HOW TO JOIN?
Make a video that tells an inspiring frontliner's story in a creative way injecting our theme, Be the Light, and by using the song, "Kaleidoscope World" by Francis Magalona.  The participant must dedicate the video to any frontliner working in Filinvest City whom they have personal connection or, people who are complete strangers.
To register and submit an entry, please go to http://filinvestcitybethelight.odvcreative.com/. There is no entry fee required in order to join the contest.
Submission of entries is from November 19, 2020 to December 1, 2020, 12:00 nn (Philippine time).
Entries will be screened within 24 hours upon submission. Approved entries will be uploaded on Filinvest City's official Facebook page and will remain uploaded on the said Facebook page until January 15, 2021.
VIDEO GUIDELINES
Participants may only use the song, Kaleidoscope World by Francis Magalona. The use of the song, Kaleidoscope World by Francis Magalona for this contest is authorized by Sony Music Philippines and MRU Music.
Participants who will send a song cover/rendition of Kaleidoscope World cannot change or alter the lyrics of the song.
The video must be no longer than 3 minutes and not less than 1 minute.
The video must be uploaded on YouTube on unlisted visibility; the video URL must be the link pasted on the registration and submission site: http://filinvestcitybethelight.odvcreative.com/
The video content must include the following:
      a. Name of the Frontliner being featured and where they work in Filinvest City
      b. A brief story that has inspired the sender to dedicate his/her entry to the chosen frontliner
      c. A photo or actual footage of the frontliner being featured
CRITERIA OF JUDGING
Originality and Creativity (35%) – How participant was able to convey his/her idea, message or thought in an original and imaginative way through their lens, narrative, performance, etc.
Production Quality (35%) –  How well the video was crafted in terms of video and audio composition
Audience Impact (30%) – The number of views of their video on Facebook
JUDGING PROCESS
Judging and selection of winners will be conducted on December 1, 2020 at 2:30PM in the presence of a DTI representative.
In case of a tie in the scores of the winners, another deliberation with the judges and DTI will take place to set the final ranking of the winners.
After judges' deliberation, email invite for a Zoom call to announce the winner will be sent to all participants. The announcement of the winners will happen on December 2, 2020 facilitated by the Organizers.
Winners will be announced to the public during Filinvest City's Online Community Event Facebook streaming on December 10, 2020.
PRIZES
First Place - Php 20,000.00
Second Place -  Php 15,000.00
Third Place - Php 10,000.00
Special Award: People's Choice Award - Php 5,000.00 (The video that gets the most number of shares on Facebook.)
The frontliners featured in the Top 3 winning entries will receive a Noche Buena Package from Filinvest City.
HOW TO CLAIM THE PRIZE?
To claim the prize, winners must present the following:
Printed copy of the email notification
Photocopy of 2 valid I.D. (Passport, Driver's License, SSS ID, Voter's ID, Company ID, Student ID)
Claiming of prize will be held at Filinvest Alabang, Inc., 23F Axis Tower One, Northgate Cyberzone, Filinvest City, Alabang, Muntinlupa City starting December 14, 2020 until February 11, 2021 every Monday to Friday from 8:00 am to 5:00 pm. All items to be redeemed under this promotion shall be given tax-free.
TERMS AND CONDITIONS
By joining this contest, the participants hereby agree:
To abide by the rules of the contest. The Organizers reserve the right to disqualify any participant who does not meet the rules and regulations with prior approval of DTI.
To grant the Organizers the right to use the video, in part or in its entirety, for any purpose whatsoever in connection to the contest or in the promotion of Filinvest City and its developer.
To accept the decision of the judges as final, with the concurrence of DTI, waiving any right to appeal the results of the contest in any court of law.
To voluntarily give consent for the collection, use, processing, storage and retention of the his/her data or information to Filinvest Alabang, Inc. for the purpose(s) described in this document.
For more information, message us at www.facebook.com/FilinvestCityOFFICIAL
DTI Fair Trade Permit No. FTEB-109027 Series of 2020