Nurturing a community of growth and wellness
Nurturing a community of growth and wellness
It's been almost a year of community quarantines and physical distancing and many have now gotten used to what we call the current normal. Protocols and safety measures are part of the ordinary as everyone gets by their daily lives. Amid the changes that the global pandemic has brought, people are trying to return to their usual routines and opportunities to thrive in life are within reach once again.
All throughout this experience, Filinvest City has been a safe, comfortable haven for many individuals in the Metro South, making it easier for them to go on with their lives despite the crisis and be ready for what the future has in store. Indeed, it has proven to lead a lifestyle and livelihood of optimum efficiency.
Innovating every lifestyle for a modern metropolis
At a time when staying home is encouraged, Filinvest City serves as a residential paradise down South, catering to all types of market from investors to end-users alike. Some of the notable residential projects strategically located within Filinvest City are Botanika Nature Residences, Bristol at Parkway Place, The Levels, Studio N, among many others.
Aside from that, the township has conveniently provided the needs of many citizens with its easy access to malls and retail stores like Festival Mall, South Supermarket, and S&R; universities and hospitals such as Far Eastern University, Asian Hospital and Medical Center, Ospital ng Muntilupa, and several clinics within the city; adding to this are government offices like Food and Drug Administration and Research Institute for Tropical Medicine. Likewise, getting in and out of Filinvest City is more convenient and easier with infrastructure developments around the area.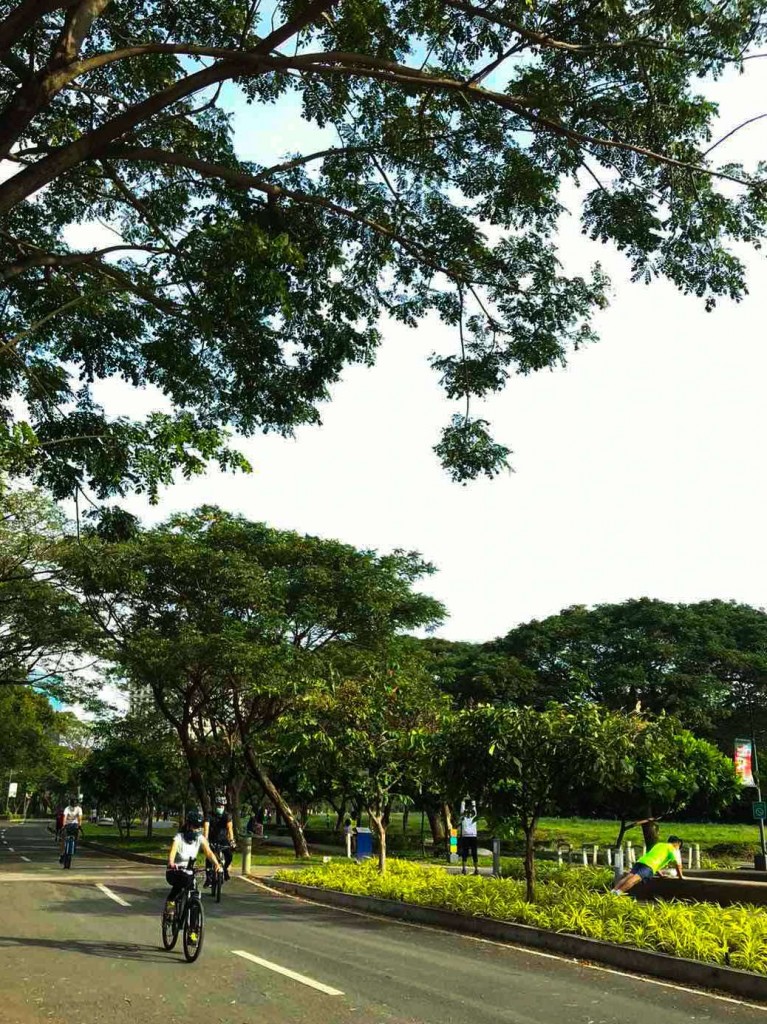 Filinvest City closes a portion of Spectrum Midway to provide additional open spaces for outdoor activities every Sunday
Embracing these establishments are the abundant green spaces within the community. Every Sunday, Filinvest City's Shared Zone closes a portion of Spectrum Midway to provide carless roads as additional open spaces for the community's outdoor activities like biking, jogging, and exercise.
Whether you are a resident, employee, investor, or visitor at Filinvest City, you would always feel safe, secured, and experience a comfortable lifestyle even amid the pandemic. With its own estate management team, it fulfills its promise of providing safety and convenience within and around the self-sustained masterplanned community. Indeed, whatever may happen, Filinvest City is ready to respond to the needs of everyone.
Fostering career and business growth
For employees and businessmen, Filinvest City is a fast-growing CBD that is primed for company and career growth. Home to well-known multinational and local corporations, it offers world-class office spaces and other facilities, like the Northgate Cyberzone. This 18.7-hectare information technology park is in a unique office campus setting that is designed and built around the needs of technology-based companies.
Filinvest Land Inc. recently listed Cyberzone Properties Inc., which manages Northgate Cyberzone, as a Real Estate Investment Trust (REIT) company to accelerate the growth of the office leasing business of Filinvest. Moreover, as the country recovers from the continuous impacts of the pandemic, job seekers can find promising career opportunities at companies located in Filinvest City.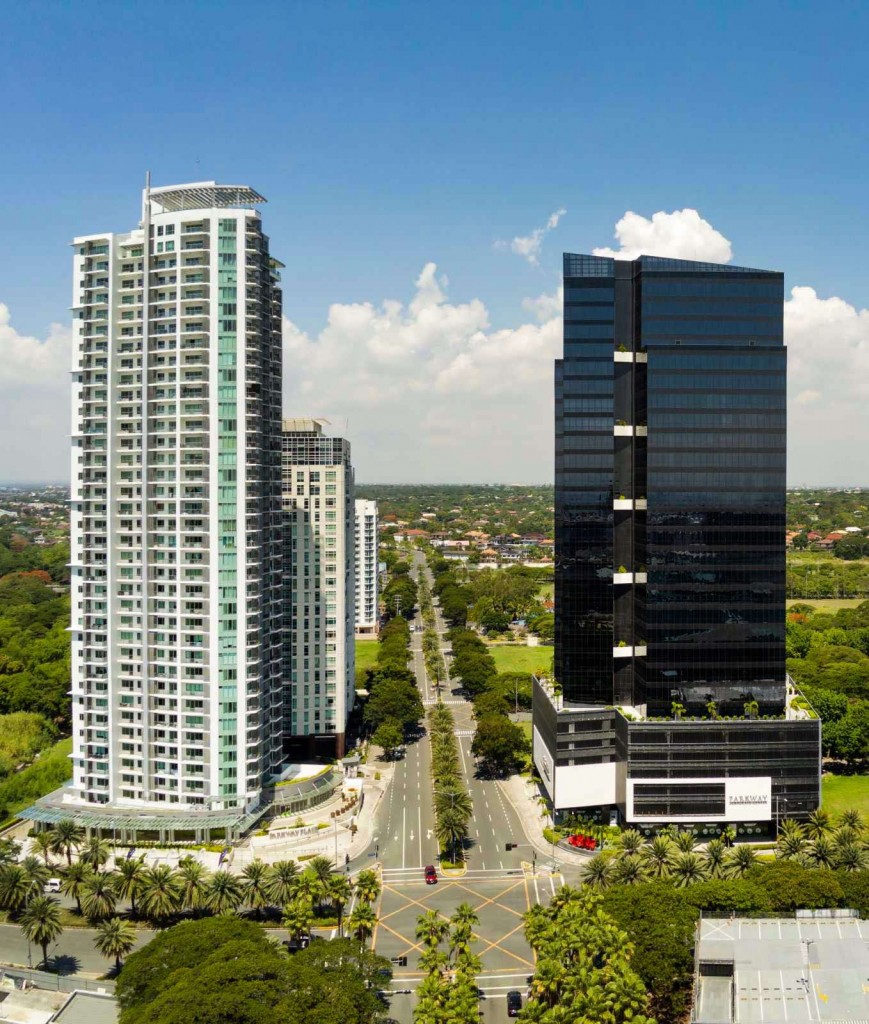 Filinvest City continues to cement its position as a garden city that forges the best practices in sustainability with its future-ready masterplan.
Building greener, future-ready cityscapes
Long before the pandemic, Filinvest City has already integrated a masterplanned outdoor environment that is aimed at avoiding traffic and overcrowding. The township has also dedicated more than 30 percent of its land to green and open spaces – which has become perfect for today's proper physical distancing.
Filinvest City is also the only LEED (Leadership in Energy and Environmental Design) Gold Certified CBD in the country. Its LEEDv4 Gold certification has raised the bar for CBDs in the Philippines and has cemented its position as a garden city that forges the best practices in sustainability with its future-ready master plan, which has become more relevant now given the new normal.
The township's major projects: Central Park and Our Lady of Lourdes Chapel, both of which aims to provide more open spaces and build connections amongst the community, are also set for completion this year at Filinvest City.
"The pandemic is truly an unfortunate experience for everyone, even for the real estate industry. But on a much brighter side, it somehow helped us demonstrate how forward-looking Filinvest City's masterplan is. Through this, we continue to provide our citizens with a community where they can always thrive comfortably," notes Filinvest Alabang, Inc. vice president for townships Don Ubaldo. "Amid the current situation, we remain to be committed to foster a culture of robust growth and convenience for our investors and end-users."
Providing convenience in Accessibility
Filinvest City has become more and more accessible as the years pass. Its transportation hub, the South Station continues to provide convenient transport option for end-users even amid pandemic, along with major thoroughfares such as the South Luzon Expressway (SLEX), Muntinlupa-Cavite Expressway (MCX), Alabang-Zapote Road, Daang-Hari Road, Old National Highway, and Metro Manila Skyway with the new Skyway Stage 3, is making travel to and from the township even more efficient. This makes it easier for employees, suppliers, and potential customers to head south, which could mean less overhead cost for business owners in the area.
Nurturing a safe and secured community
The community realizes now more than ever that a safe community not only provides ease and comfort but also enables a dynamic relationship between the residents, workers, and other stakeholders to live a rich and quality lifestyle.
In support to this, Filinvest City launched its Free Public WiFi Access and CCTV cameras along Northgate Cyberzone, portions of Alabang-Zapote Road and Spectrum Midway. Staying connected and being secured is now easier in Garden City. With its smart city initiatives and gold standard in urban planning, Filinvest City maintains its high market value in realizing a robust business sector while fostering a safe and sustainable city lifestyle.
Many are optimistic that this year will bring everyone's life back to normal. While many aspects of our current situation remain uncertain, Filinvest City will continue to set the bar high and redefine the real estate industry in the Metro South by becoming an ideal place for growth and wellness.
For more information, visit https://www.filinvestcity.com/. You can also visit Filinvest City virtually through their online virtual tour: https://tours.exsight360.com/filinvest/city/index.html