Temasek Foundation & Filinvest Foundation tie-up to help PH vs COVID-19
Temasek Foundation & Filinvest Foundation tie-up to help PH vs COVID-19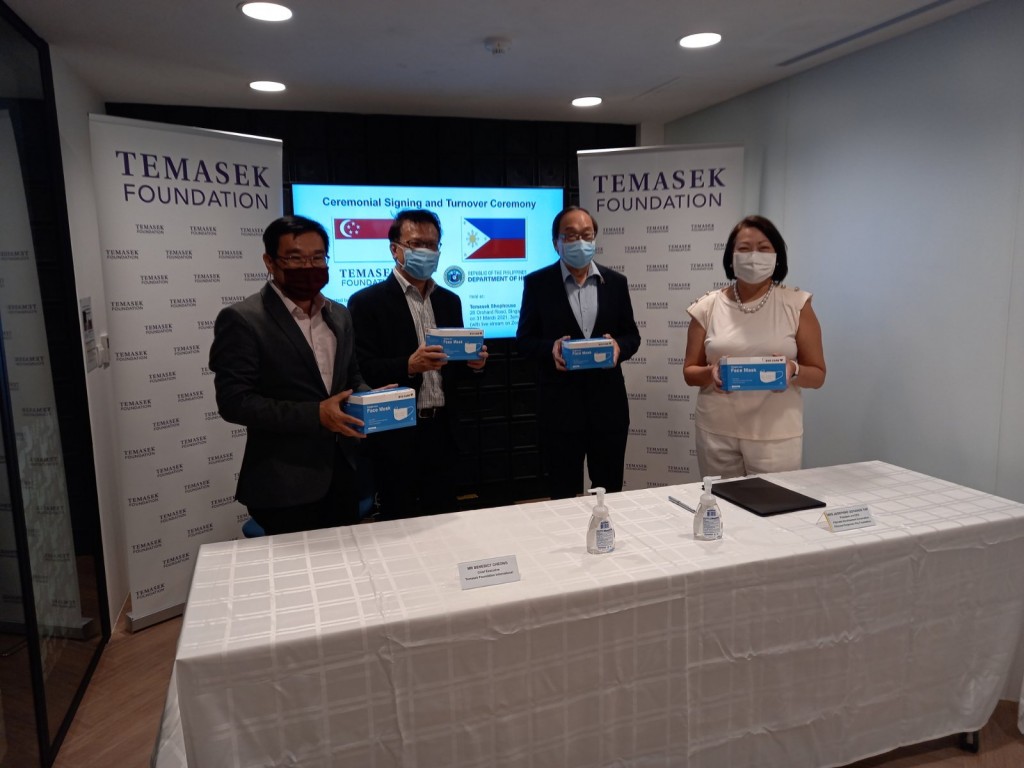 (L-R) Temasek Foundation Senior Director Gerald Yeo, Temasek Foundation International Chief Executive Benedict Cheong, Ambassador of the Philippines to Singapore H.E. Joseph del Mar Yap, and Filinvest Development Corporation and Filinvest Corporate City Foundation president and CEO Josephine Gotianun Yap
As the pandemic rages on, Filipinos continue to march ahead to fight the debilitating effects of the dreaded disease. To ensure that medical assistance remains unabated, Filinvest Corporate City Foundation Inc. (FCCFI) has partnered again with Singapore-based Temasek Foundation to support the country's fight against COVID-19.
In a ceremonial turnover of donation held recently, Temasek Foundation (TF), the philanthropic arm of Singapore investment company Temasek Holdings, donated P100 million worth of dialysis machines, supplies and accessories. The shipment, which is in 17 40-ft container vans, is scheduled to be delivered to the DOH by the end of April.  FCCFI will shoulder the freight cost amounting to P2 million for shipping the containers from Singapore to Manila. The second donation from TF-- one million pieces of BYD surgical masks -- will be distributed by FCCFI to various local communities, LGUs, and medical institutions to protect healthcare frontliners as they provide medical care to patients. 
Since the onset of the pandemic, Temasek Foundation has been hard at work in providing donations and medical supplies to countries all over Asia. Last year, it partnered with FCCFI to facilitate the distribution to local medical institutions of 400 Bi level Pap Machines (BiPAP) and 100,000 pieces of N95 masks. In total, Temasek Foundation has provided over P700 million in donations to the Philippines since the start of the pandemic.  Apart from facilitating the distribution of medical supply donations to target recipients, FCCFI also covered the shipment cost of most of these donations from Singapore to Manila. In addition, FCCFI has also donated over P100 million through its various other COVID-related initiatives.
Along with Temasek Foundation International Chief Executive Benedict Cheong, Senior Director Gerald Yeo, Filinvest Development Corp. and FCCFI President and CEO Josephine Gotianun Yap and the Ambassador of the Philippines to Singapore Joseph del Mar Yap, present to witness the signing of the agreement virtually were Secretary of Foreign Affairs Teodoro Locsin Jr. and Undersecretary and Chief of Presidential Protocol and Presidential Advisor of Foreign Affairs Robert Eric Borje, Ambassador of Singapore to the Philippines Gerald Ho, and DOH-Bureau of International Health Cooperation Director Dr. Maria Soledad Antonio.
At the ceremonial turnover of donation held virtually, TF CE Cheong reiterated Temasek Foundation's commitment and continuous support for the Philippines, as the country continues its fight against the pandemic. "We stand in solidarity with the Philippines and ASEAN to combat against the pandemic. We are neighbors. As the saying goes, no one is safe until everyone is safe," he said. 
For its part, FCCFI remains unwavering in its determination to help and support medical frontliners provide healthcare assistance to patients nationwide. "In these trying times, we, as a country, need to redouble our efforts to ensure that help is continuously provided to every patient all over the country. FCCFI remains focused in our commitment to supporting the DOH, LGUs, and medical institutions in the COVID fight through partnerships with Temasek Foundation and other charitable foundations," said Josephine Gotianun Yap.