Festival Mall OK'd as 2nd major vaccination site for Pfizer, Sputnik V in Muntinlupa
Festival Mall OK'd as 2nd major vaccination site for Pfizer, Sputnik V in Muntinlupa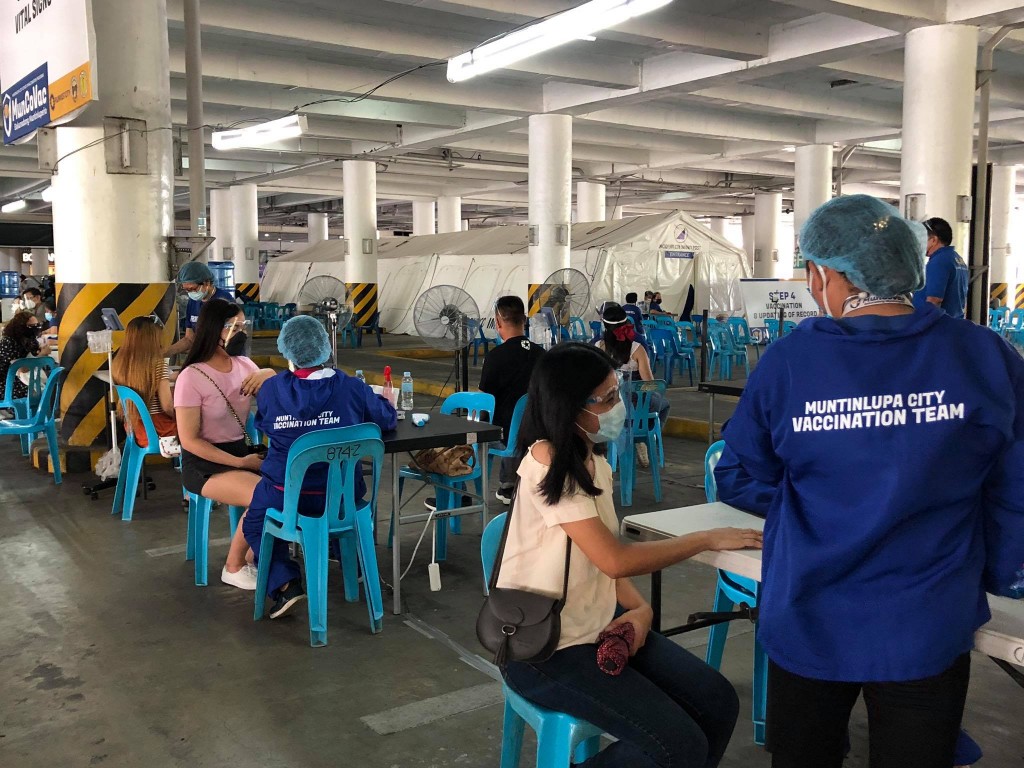 THE Department of Health - Metro Manila Center for Health Development (DoH-MMCHD) has recommended an additional vaccination site in Muntinlupa as one of the rollout areas for Pfizer-BioNTech and Gamaleya's Sputnik V vaccines.
Muntinlupa Mayor Jaime Fresnedi and DoH – MMCHD executive Dr. Ara Jurao led a simulation activity for Pfizer and Sputnik V vaccines at Festival Mall Covered Parking area, one of the city's major vaccination sites, last May 25.
Jurao lauded the planning and preparation of Muntinlupa City Health Office for the administration of the temperature-sensitive vaccines. She has given the go signal to use the major vaccination site for the rollout of Pfizer and Sputnik V.
Muntinlupa awaits additional allocation from the national government as it maxed out the supply of Pfizer and Sputnik after reaching the target number of vaccine takers.
As of May 24, a total of 41,443 residents received their first dose of Covid-19 vaccine, of which 15,394 have received their second dose. At least 3,507 members of A1-A3 priority group were vaccinated with Pfizer and 2,979 received Sputnik V.
Festival Mall Covered Parking Area is the second major vaccination site in Muntinlupa to have been accredited for the rollout of Pfizer and Sputnik V. Previously, the DoH has only allowed the rollout of Pfizer at Ayala Malls South Park while Sputnik V was only allowed to be administered at Ospital ng Muntinlupa and Asian Hospital and Medical Center.
Other officials attending the simulation activity were DoH – MMCHD executives Dr. Anthony de los Santos and Dr. Jose Castro, City Health Officer Dr. Juancho Bunyi, and National Immunization Program Coordinator for Covid-19 in Muntinlupa Dr. Maria Rochelle Abat, among others.
Further, Muntinlupa CHO will continue to inoculate remaining members of priority groups using AstraZeneca and Sinovac Life Sciences' CoronaVac. On May 11, Muntinlupa LGU received an additional 16,800 vials of AstraZeneca and 31,200 vials of Sinovac.
Muntinlupa residents are urged to register online in the city's Covid-19 Vaccination Registration System via www.vaccine.muntinlupacity.gov.ph/muncovac to avoid crowing in vaccination areas.
The public is reminded that walk-ins the city's major vaccination sites including Ayala Malls South Park, Festival Mall UGF Covered Parking, SM Muntinlupa, and Sucat Covered Court will not be accommodated. Only those who are registered online will be given schedule in the major vaccination sites and will be notified via SMS.
Source: https://www.manilatimes.net/2021/06/02/public-square/festival-mall-okd-a...